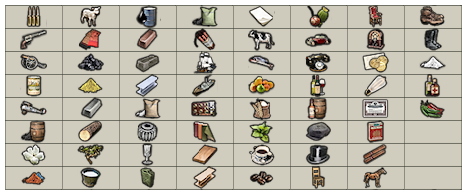 The new balanced and expanded economy adds 16 new goods (displayed in bold) to the 48 goods Victoria II had. On top of that, PDM introduces new in-game icons for all goods.
Aeroplanes
Ammunition
Artillery
Automobiles
Barrels
Boots
Bronze
Canned Food
Cattle
Cement
Cigarettes
Cigars
Clipper convoy
Coal
Coffee
Copper
Cotton
Dye
Electric gear
Electric Power
Explosives
Fabric
Fertilizer
Financial Services
Fish
Fruit
Fuel
Furniture
Glass
Grain
Gunpowder
Horses
Iron
Lead
Liquor
Lumber
Luxury Clothes
Luxury Furniture
Machine Parts
Oil
Opium
Paper
Pharmaceuticals
Precious Metal
Print
Radio
Regular Clothes
Rubber
Shares
Shoes
Silk
Small Arms
Spices
Steamer convoy
Steel
Sugar
Sulphur
Tea
Telephones
Timber
Tobacco
Tropical Wood
Wine
Wool

[ This need not be an alphabetical list, it can be sorted into categories, or into PDM goods vs. old goods, etc. Also we'd need info on what each good is used for in PDM (i.e. what factories need it, or produce it, how Artisans can make them and what POPS demand what goods, etc.) ]
Community content is available under
CC-BY-SA
unless otherwise noted.